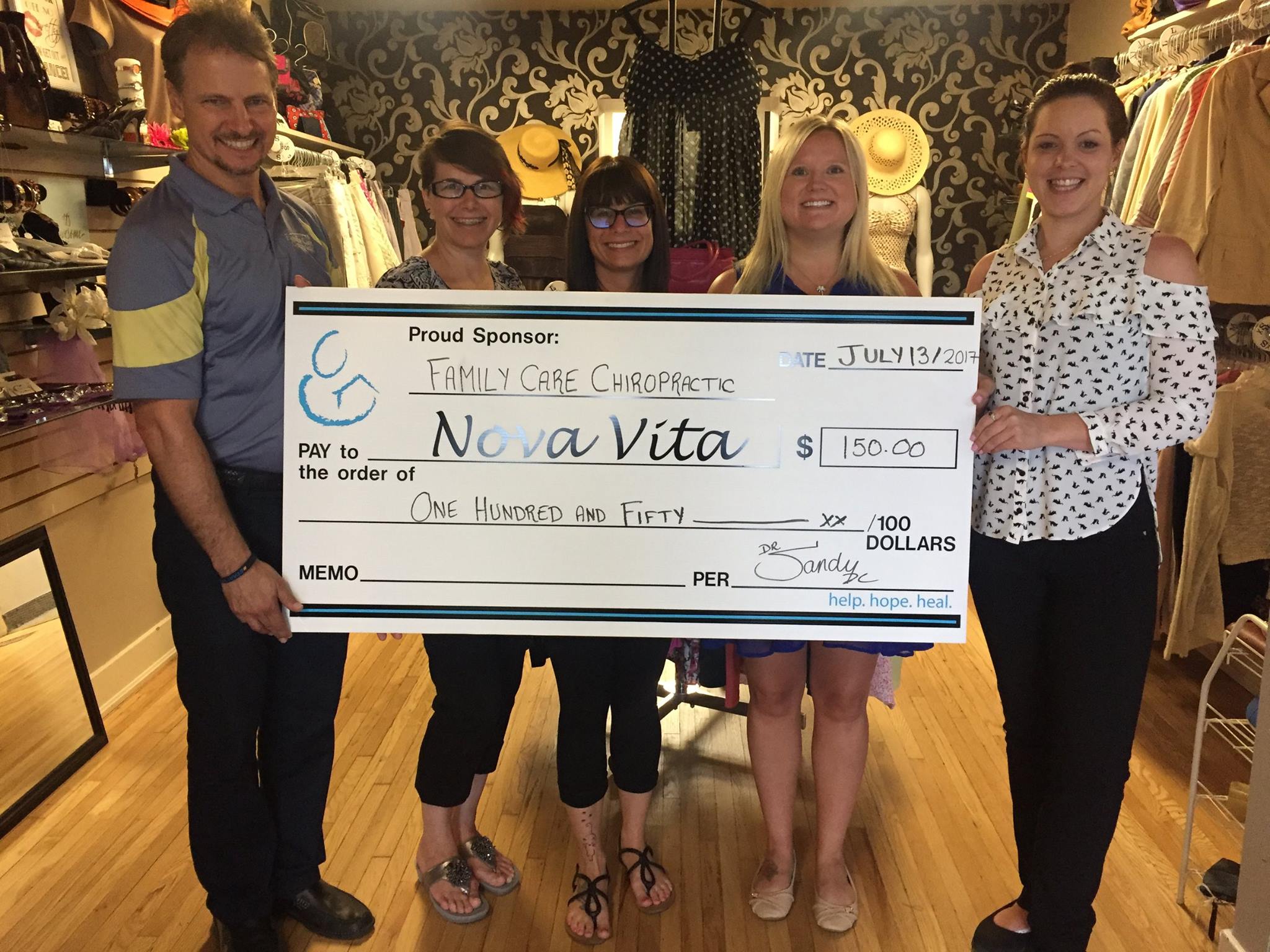 Donating 150 for Canada's 150!
Thanks to our May is for Mothers campaign and our patients missed appointment donations, together, we were able to help Nova Vita. Here we are making a cheque presentation at Closet Couture Boutique, whose proceeds all go to support this great cause. Donating 150 for Canada's 150!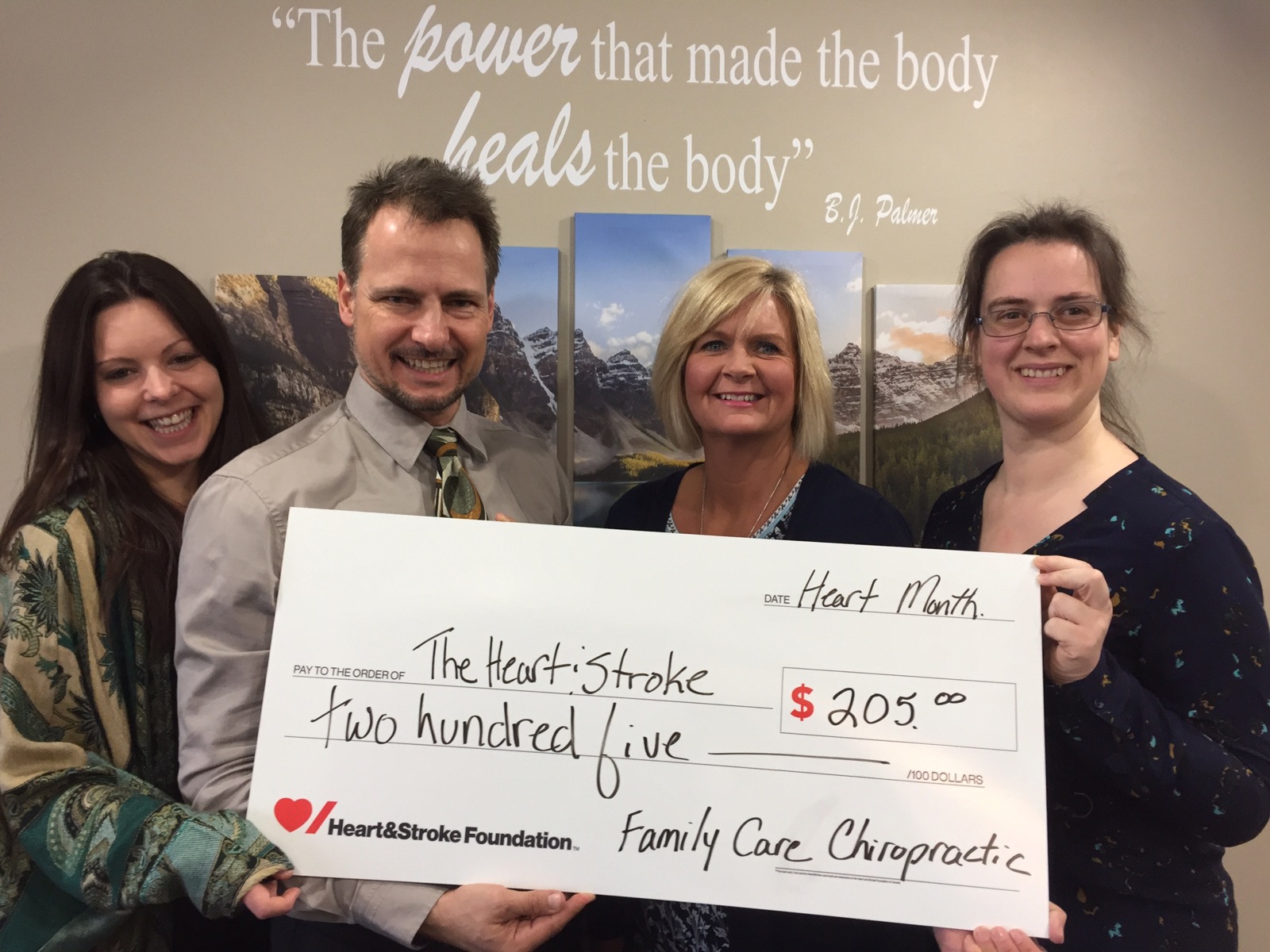 Doctor with a Heart
Recently, Family Care Chiropractic held their annual "Doctor with a Heart" campaign, which helped to raise funds for the Heart and Stroke Foundation. In lieu of regular new patient fees, patients made a donation towards this great cause.
Here, pictured (2nd from left) Dr. Sandy Kunej presents a cheque to Pam Brown, Heart & Stroke Foundation while Maura (left) and Hannah (right) of FCC look on.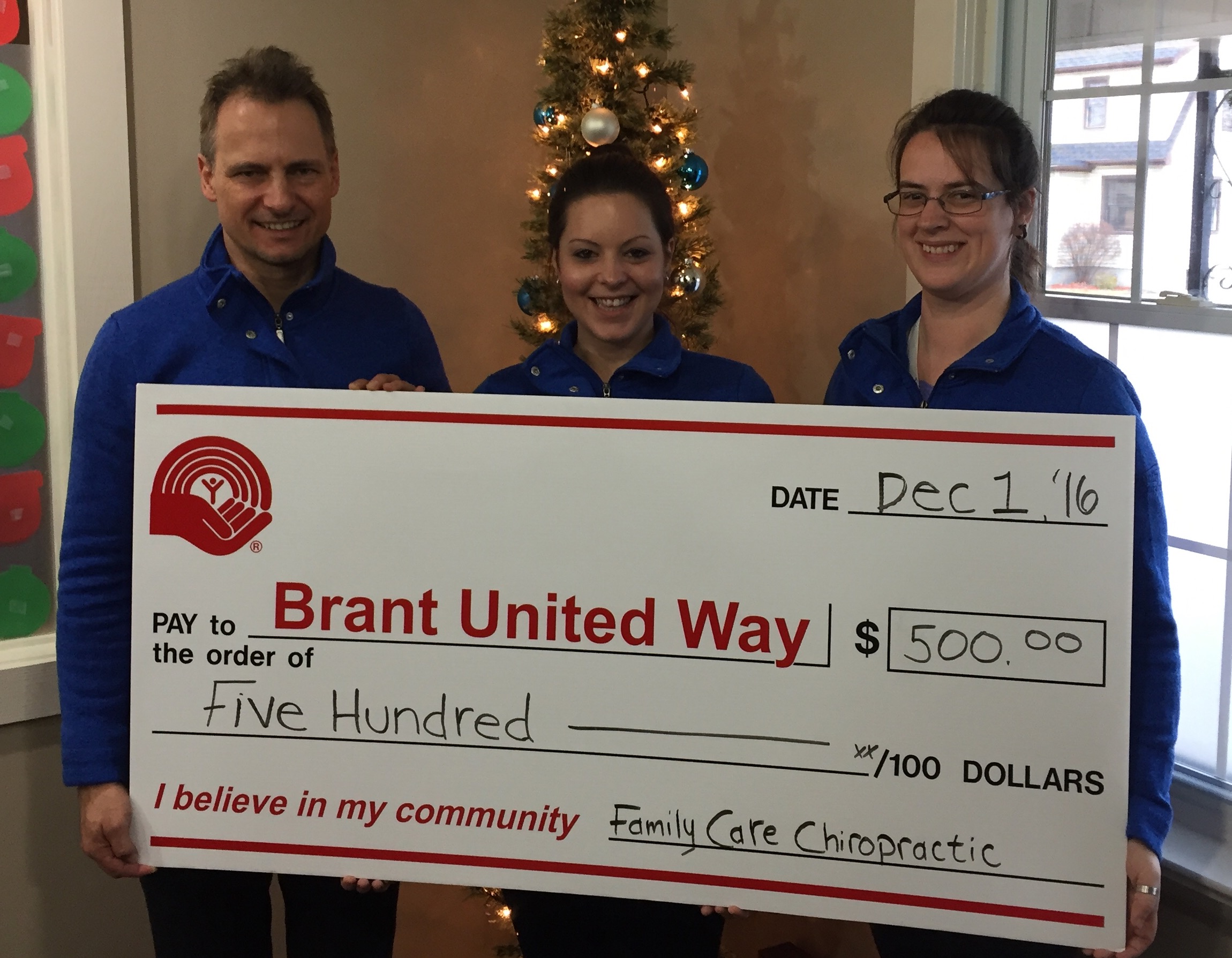 FCC United Way Days a Success!
Recently, Family Care Chiropractic held its 15th Annual United Way Days. New patient examination fees were waived and instead, patients were asked for donations, with all fees going to Brant United Way. Thank-you to all for your generosity, we reached our goal!
In photo above, Dr. Sandy Kunej, Chiropractic Assistants Maura and Hannah hold the Big Cheque for Brant United Way.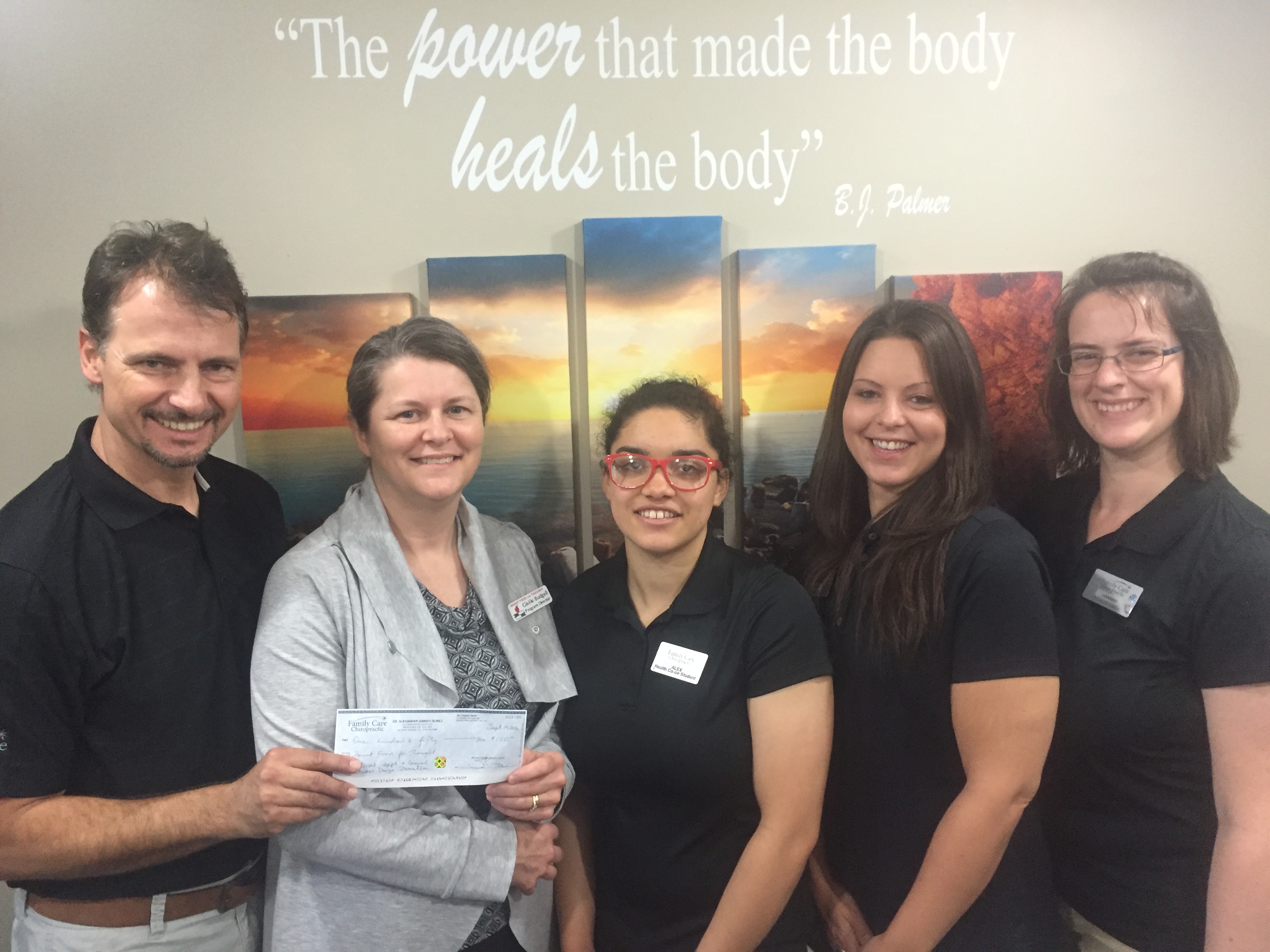 Family Care Presents a Cheque to Brant Food for Thought
Dr. Alexander Kunej (Dr. Sandy) of Family Care Chiropractic presents a cheque to Gisèle Budgell from Brant Food for Thought, as co-op student Alexandria and chiropractic assistants Maura and Hannah look on.
The funds, collected from missed appointment fees as well as casual dress down days, will cover a nutritional breakfast for a child for the entire school year. We want to wish the Brant Food for Thought continued success. It is a wonderful organization that truly makes a difference in our community.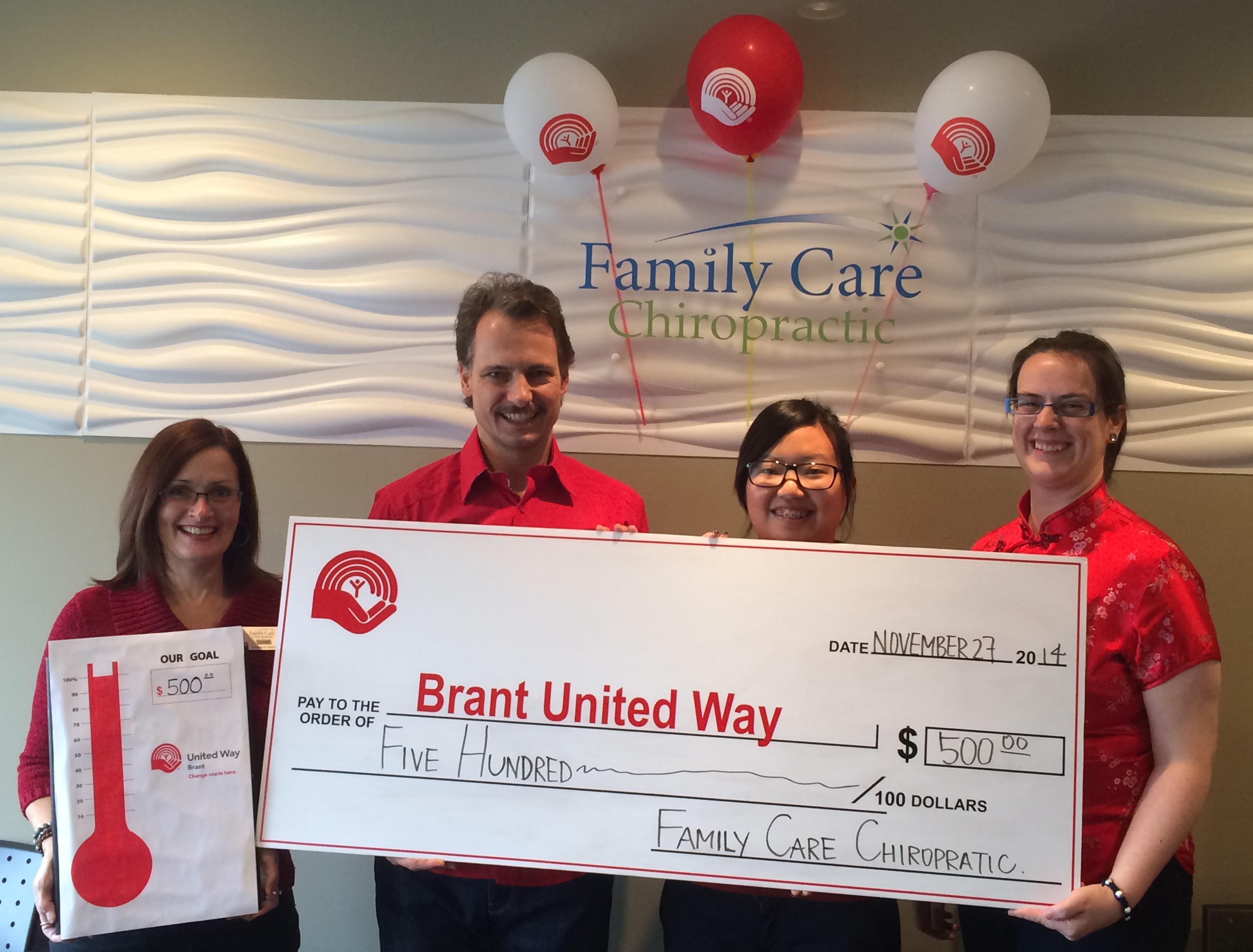 Food For Thought We Met Our 13th Annual Brant United Way Days Donation Goal!
"Thank you to all our generous patients, our 13th Annual United Way Days was a huge success! We reached our goal of $500 which was donated by new patients in lieu of our usual examination fees. Dr. Sandy Kunej of Family Care Chiropractic presents a cheque to Odelia Ho of Brant United Way, as Dianne F. (left, holding our goal thermometer) and Hannah V. (right, holding the cheque) look on."

- Dr. Sandy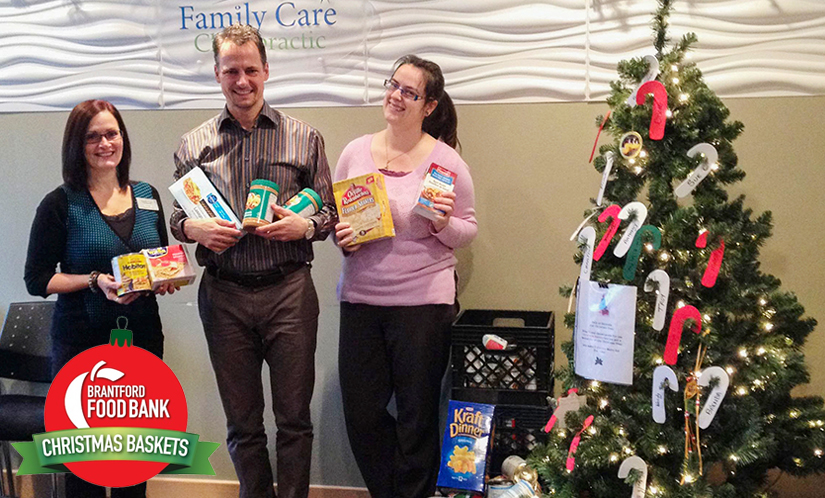 Tis the Season for Giving
With your generous help we were able to donate 328lbs. of food to the Brantford Food Bank Christmas Baskets program!

We wish you a safe, healthy and happy holiday season and all the best in the new year!

- From Dr. Sandy and staff of Family Care Chiropractic
Scroll